MUSKOGEE CRIMINAL DEFENSE ATTORNEY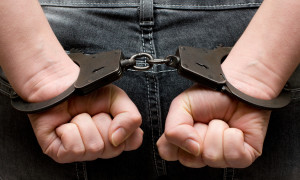 If you have been arrested, it is important that you know your legal rights. Whether you have been accused of a misdemeanor or a felony, you have options. Work with an experienced and dedicated criminal attorney who will never stop fighting for you.
At the Law Office of Dan Medlock, your rights are my highest priority. I understand the enormous stress that a criminal charge can bring to you and your family. You need someone to stand by your side and I will be there with you every step of the way, fighting to protect your rights.
EXPERIENCE COUNTS
Dan Medlock is an experienced criminal law attorney and former Assistant District Attorney. With over 10 years of experience practicing criminal law, I have handled thousands of criminal cases from investigation through sentencing. My time spent in the District Attorney's Office has enabled me to identify the weaknesses in the State's cases.  This means you benefit!!
IMMEDIATE REPRESENTATION
I understand that when you are charged with a crime it can be very stressful. You don't want an attorney that will start working on your case next week or next month. You want someone that will start working on your case right away. After your FREE initial consultation, if you retain my services, I will start working on your case immediately. Law enforcement and the District Attorney will not waste any time arresting and prosecuting you. You should not waste any time in preparing your defense.
The criminal justice system in Oklahoma carries with it a myriad of complexities and requirements, which are all critically time-sensitive. I can help you navigate the criminal justice system and work to secure your rights. Ask for same day representation and let me fight for you today.
GET HELP NOW – TIME IS OF THE ESSENCE
Call the Law Office of Dan Medlock to find out more information about your legal options. Let me use my experience to help you.
During your free consultation we will discuss what you can expect to happen next, the potential punishment, whether you can avoid a criminal record, and whether your charge can be dismissed or reduced to a lesser offense. Learn more about the criminal process.
Acting quickly before the District Attorney files charges can be beneficial to your case. This helps us gather time-sensitive evidence, witness testimony, and gather documents to support your case. If you are concerned about the costs of maintaining an attorney, we keep our fees reasonable and offer payment plans for many situations. You deserve quality legal representation during your time of need.